How Long to Wait for an STI Test After Unprotected Sex
Immediately after having unprotected sex, you may want to run to your local clinic and get tested. But what good is a negative STI test if the test is too soon to be trusted? How long should you wait for an STI test after unprotected sex? What is the time frame between being exposed to an STI and when you would test positive for it if you were infected?
STIs are a category of infections that are primarily passed through sexual contact.  That includes genital sex, oral sex and anal sex.
First, a few important terms:
The incubation period is the time it takes for the body to produce antibodies and symptoms to appear after being exposed to an infection.
The latency period is the time between your exposure to an STI and when you can pass that infection on to other people.
The window period is how long it takes between your exposure to an STI and getting an accurate test result.
It's possible to be infected with an STI and not be experiencing any symptoms. Even during this time you're able to pass that infection on to your sexual partner. That's why it's important to test regularly and not wait for symptoms to arise.  You can unknowingly pass along an infection – even if you have no symptoms! This is one reason STIs are such an epidemic in our country. It is recommended that all sexually active adults get tested for STIs with each new partner, or at least once a year.
But still, there is a time it's too soon to test – a time period where you will need to wait for an STI test.
Here is a guideline for the testing window (how long you should wait between the sexual encounter and getting tested) for some of the most common STIs:
Gonorrhea 7-14 days
Chlamydia 5-14 days
Trichomonas 7-30 days 
HIV 18-90 days
Hepatitis C  2-6 weeks
Syphilis 3-6 weeks
Herpes (HSV 2) 1-4 months
There are benefits to detecting these infections early and receiving the appropriate treatment in a timely manner. If you think you may have an STI, it's important to stop engaging in sexual activity and get tested. Knowing the incubation period and testing windows of the most common infections can help you determine how long you should wait for an STI test and when to seek medical help. You can play an important role in stopping the transmission of STIs between yourself, your sexual partners, and their sexual partners. In some cases, testing can even save your life.
Some of the potential risks of untreated STIs include:
Taking care of your sexual health is important. Not everyone will voluntarily disclose their STI status to you. You can take control of your sexual health by asking questions, screening new sexual partners, and having open and honest discussions about sexually transmitted diseases. 
You are worth taking the time to gain trust and build a lasting relationship before engaging in intimate behavior. At Alcove Health Women's Clinic, we can provide you with the information and tools you need to build healthy, trusting, and lasting relationships. We also test for chlamydia, gonorrhea, and trichomonas at no charge. Additionally, we will provide you with a no-cost pregnancy test during your medical appointment. We would love to schedule an appointment for you to talk with an advocate and see a Registered Nurse. Call or click here to request your free and confidential appointment!
By Meg, RN, BSN, Nurse Manager

Find Out More Information On Our Blog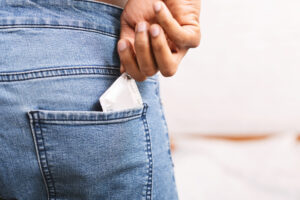 What makes a condom fail? Worried that you are pregnant or have an STI? Call 757-591-8141 to make an appointment...
Read More