I won't risk an abortion without an ultrasound.
There's a new research study allowing abortions-by-mail in Virginia.  The fact that abortions by mail are provided as part of a study, well that's telling. Why a study? Why isn't this already FDA-approved?  Being part of a "study" allows a provider to bypass standard safety procedures. When safety measures are side-stepped – even for the sake of a study – women are less safe. Always. It's right there in the wording – women don't even come into a clinic, so all in-person care is, well, removed.  Mail-to-home abortions may be easy – especially for abortion providers, but they aren't safe – for women.
You see, there are some things you just can't receive virtually. Abortions by mail bypass some pretty important medical services – like a free ultrasound. Or a free STI/STD test. Or a properly administered free pregnancy test. 
Even in light of concerns about COVID exposure, let's be honest. We go to Walmart, right?  So, we'll risk COVID for groceries and toilet paper, but not for our reproductive health? That doesn't make any sense.
Here at Alcove Health Women's Clinic, we don't want you to engage in risky behavior.  That's why we are vigilant about cleaning all client touch rooms (probably more so than your local grocery store) and we schedule appointments in a way that limits the number of people in our waiting room (not just for COVID spacing, but also for your privacy – but's that's a topic for another blog).  We also work hard to honor your time and stay on schedule, so your time in our waiting room is held to a minimum.
What's more, all of our services – including pregnancy tests, ultrasounds, and STI tests – are provided at no cost to you.
So, there's no reason to gamble on an ill-informed abortion. An abortion without an ultrasound is always a risky gamble. Without an ultrasound, you can't rule out an ectopic pregnancy, you can't know for sure how far along you are (medical abortions have gestational age restrictions) and you can't know if you even have a viable pregnancy.  And this gamble can easily be avoided here on the Virginia Peninsula.
Without paying a penny. 
You don't have to say no to an abortion to make an appointment with Alcove Health. All you have to do is say yes to your safety and health. Then pick up the phone and call us. We'll talk to you about all your options and find you an appointment so you can be seen – in person – quickly.
We want to make things convenient and easy for you, too. We just don't think you should have to endanger yourself for ease. You can have ease and safe health care – in Newport News at Alcove Health Women's Clinic. Call us today at 757-591-8141 or click here. 
By Sherri, Client Relations Manager

Find Out More Information On Our Blog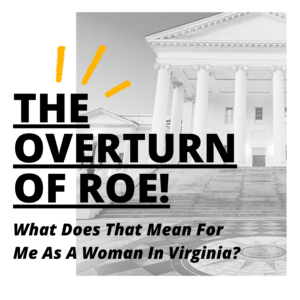 What does an overturn of Roe v. Wade mean to me as a woman in Virginia? Click here or find...
Read More