if I have an Abortion am I still a parent?
"While you can end the pregnancy you may not be able to end parental instinct."
If you are facing an unplanned pregnancy, I urge you to take a moment and read on. If you're asking yourself, "Am I still a parent if I abort?" an abortion consultation will help you work through that question. I know you are overwhelmed and unsure about the future. Also, you are likely concerned about everything that may happen to your body.  But let's take a moment to discuss what you may not hear anywhere else. 
An abortion ends the pregnancy and there may be immediate relief for most women. The worry about your future, school and everything that came with the unexpected pregnancy may seem to be gone. The message we often see on social media: "You do not have to carry a pregnancy for 9 months." But unfortunately, it is not necessarily that simple. 
It is not always possible to end the pregnancy emotionally. You may carry with you the moment that the pregnancy ended. This means that when it is Mother's day you could wonder about what would have been if you had not gone through with the abortion. Questions may cross your mind like: I wonder what color eyes he or she would have had? Or would he or she have loved to read like I do? On the day of what would have been his or her birthday you may find yourself counting the years to know how old he or she would be. Being a parent is immediate and now you are faced with three options: carry, adoption, or abortion. 
While you can end the pregnancy you may not be able to end parental instinct. This includes the desire to grieve the loss of the pregnancy.  This is why it is vital to have all the information available before you make a decision. Give yourself time to consider your options and if you want a judgement-free safe place to do that, give Alcove Health a call.  You will be able to meet with a trained client advocate who will hear your story and help you unpack how each option might look in your unique situation.  You will also meet with a registered nurse who will give you medically accurate information.  And we will do it all at no cost to you.  
At Alcove Health Women's Clinic in Newport News, we provide a safe space for you to process your options, along with the medically accurate information you need to make an informed decision.  Call us today at 757-591-8141 to schedule your free appointment.  
By Sylvia, Client Advocate

Find Out More Information On Our Blog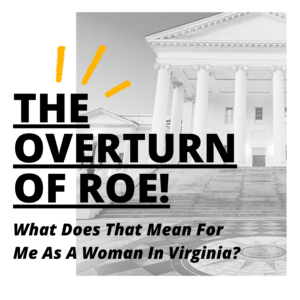 What does an overturn of Roe v. Wade mean to me as a woman in Virginia? Click here or find...
Read More