Do I need an ultrasound before taking the abortion pill?
Whatever decision you make is lifelong, so don't make a decision while in "panic mode."
You're looking at a positive pregnancy test. But what if you don't want to be pregnant? A telehealth appointment and the abortion pill may seem like the ideal – and quick – solution to your unplanned pregnancy. But what about an ultrasound? Do you even need an ultrasound before taking the abortion pill?
Let's think about this. Actually, let's look at it from a different angle altogether.
So if you have a dentist appointment, and the dentist says he is going to pull one of your teeth, would you let him do that without telling you why it needs to be pulled, which tooth, and what the complications might be? So, let's ask an even crazier question. If you talked to a dentist on the phone and he told you he needed to pull the tooth and he's never even seen you in person, would you let him give you instructions on how to pull the tooth yourself? The obvious answer is no way! 
So then why would you take pills to have an abortion at home without seeing a medical provider and knowing some very important details?
For example:
Where is the pregnancy located? Is it in the uterus? If not, the abortion pill will not work for that pregnancy. Not to mention if the pregnancy is not in the uterus, it is called an ectopic pregnancy which is considered a medical emergency – meaning evaluation by a doctor ASAP. And the only way to know this is to have an ultrasound done before taking the abortion pill.
Is there a heartbeat? Why would you pay for a service that could be a financial hardship and may not be needed? Last year 33 of the women that came into our clinic wanting information about abortion left either with a negative pregnancy test or found out they were miscarrying. If they had not come in, they likely would have taken the abortion pill and potentially struggled with the after-effects like depression or regret, which can occur after having an abortion.
And finally, how far along are you in your pregnancy? To know that you need to know your EGA or estimated gestational age. This is a very important piece of information if you are planning on taking the abortion pill. The fact is that the further you are in your pregnancy the less effective these pills are at ending the pregnancy, especially without complications. The first pill, mifepristone, is only FDA-approved for 70 days or less since the first day of a woman's last menstrual period (LMP) – that is 10 weeks.  So, that means you don't want to be guessing or assuming your period came when it 'normally' does when taking abortion pills. It just isn't safe. So why risk by guessing at all? You can know your EGA by having an ultrasound before taking the abortion pill.
I would encourage you to slow down for a minute and consider coming in to see us at Alcove Health where all our services are free – including our ultrasounds.
It is very rare that we make good decisions when we are stressed, pressured, or surprised by unexpected news. Not having all the information we need to make an informed decision can put us in a place of regret in the future. The "what-ifs" and "if I had known" thoughts play in our heads on repeat. Whatever decision you make is lifelong, so don't make a decision while in "panic mode." We want to be the safe place for you to slow down, talk, process your feelings, and consider your next steps with accurate medical information so you can make the best decision for your reproductive health. Call us today or click here to request an appointment.
By Kinta, RN, BSN, Nurse Manager

Find Out More Information On Our Blog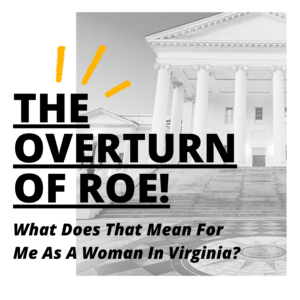 What does an overturn of Roe v. Wade mean to me as a woman in Virginia? Click here or find...
Read More