How Much Does an Abortion Cost?
The cost of an abortion will vary greatly depending on factors.
One of the most frequent questions asked by those facing an unplanned pregnancy is "How much does an abortion cost?"  If that's you, you may be surprised to find there is a wide range of answers.  That's because the cost of an abortion will vary greatly depending on factors such as age of pregnancy (how far along you are), type of abortion, whether you request pain meds or sedation, the type of facility you choose, the type of medical provider, and so on.  The cost could be a few hundred dollars or a few thousand.  Among those factors, finding out the age of your pregnancy is an important first step. Fortunately, there is a way you can find that information at no cost to you.  There are women's health care clinics in most cities that will provide you with a free ultrasound, which will give you the information you need to predict the abortion cost.
Many women rely on their LMP (last menstrual period) to determine how far along they might be.  Your LMP is a good place to start, but it is not always accurate.  An ultrasound is the most accurate method for dating a pregnancy.  Medical abortions are typically available for dates up to 10-11 weeks, while surgical options are typically necessary beyond that mark.  As you might expect, a medical abortion (series of pills) is less expensive than a surgical one.  Furthermore, as a pregnancy progresses, surgical abortions increase in price.  That's why accurately dating a pregnancy is so important. It will affect the overall abortion cost.
In addition to helping you date your pregnancy, there is other important information that a free ultrasound can provide.  For one thing, it can help your medical provider rule out an ectopic pregnancy.  An ectopic pregnancy is one located outside of the uterus and is a medical emergency.  It can also help you discover whether your pregnancy is progressing by looking for a heartbeat.  If there is no heartbeat, you might be experiencing a miscarriage . 
One area women sometimes fail to think about when calculating the cost of an abortion is follow up care.  It is important to ask a medical provider about their policies and pricing for follow up visits.  Sometimes things do not go as planned and women need additional medical services.  There are risks to both types of abortion and it is important to know if follow up visits are included and what the overall abortion costs might be if there are complications. 
So if you are facing an unplanned pregnancy and wondering about the cost of an abortion, consider finding a place to get a free ultrasound before you do anything else.  At Alcove Health Women's Clinic in Newport News we provide pregnancy tests, ultrasounds, and STI testing; and we provide those services at no cost to you!  We also offer options consultations, so you will have a safe space to talk about your options with a trained client advocate.  Call us today or click here to schedule your medical appointment.
By Sheri, Client Advocate

Find Out More Information On Our Blog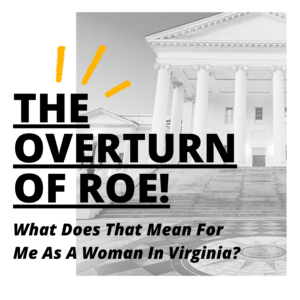 What does an overturn of Roe v. Wade mean to me as a woman in Virginia? Click here or find...
Read More